Mission Statement: The Foundation's mission is to raise funds and provide scholarship money to qualified students who are enrolled in a  Connecticut Physician Assistant program or Connecticut residents attending an out of state Physician Assistant program.
---
The Foundation
The CT PA Foundation (PAF) is the philanthropic arm of the Connecticut Academy of Physician Assistants.  Incorporated in 1989, the Foundation was an outgrowth of the ConnAPA Scholarship Committee which began awarding scholarships in 1980. Of note is the fact that ConnAPA was the first state PA chapter to award a scholarship. Over the years, ConnAPA has given out thousands of dollars in PA school scholarships to Connecticut residents. The Foundation is governed by a Board of Trustees comprised of physician assistants as well as faculty and student representatives from each Physician Assistant Program in Connecticut.
All money raised is for the purpose of scholarship.  Scholarship recipients are selected based on a review of their application, including their curriculum vitae, community service involvement, and their response to an essay question. PA Program verification of active enrollment is required.  Scholarships are presented at the annual Charter Oak Conference sponsored by the Connecticut Academy of Physician Assistants.
The Foundation has held activities such as a Bowl-A-Rama, Wine and Tapas, and other social events to raise additional funds.  Since initiating these events, the Foundation has raised thousands of dollars for scholarships.
Contact Information: ctpafscholarship@gmail.com
Board of Directors:
President: Deb Cooke
Immediate Past President:  Aisha Khan
Treasurer:  Beth Cuoco
Secretary:  Johanna D'Addario
Trustee: Becky Orsulak
Trustee:  Brennan Bowker
Trustee:  Alexander Cieply
Trustee:  Jocelyn Depathy
Trustee:  Courtney Fankhanel 
Trustee:  Michael Moi
Trustee:  Corinne Morrison
Yale University
Hannah Carson, 1st yr
Christina Jacobson, 2nd yr

U of Bridgeport
Alyssa Raines, 1st year
Katie Stites, 2nd yr

Quinnipiac University
Windell Julien, 1st yr
Kyle Hoyer, 1st yr
Alyssa Romance, 2nd yr
Benjamin Mucci, 2nd yr

Sacred Heart University
Joy Helwig, 1st yr
David Ceini, 2nd yr

 
PAF Scholarships
Students attending an accredited Physician Assistant program in Connecticut  or residents of the State of Connecticut attending an accredited  PA program in another state are eligible to apply for a scholarship. The Scholarship Committee will review all applications and awards will be announced at the Charter Oak Conference.
PLEASE NOTE: THE SCHOLARSHIP APPLICATION PROCESS HAS CLOSED FOR THIS YEAR. PLEASE CHECK BACK IN THE FALL TO DOWNLOAD AN APPLICATION FORM FOR THE 2022 SCHOLARSHIPS.
Of special note regarding the numerous scholarships the PAF awards, it  has established several named student scholarships in memory of PAs who have made significant contributions to the PA profession in Connecticut. They are:
Charles Drew Morten Memorial Scholarship 
Drew was a key legislative advocate for PAs in CT for many years. He fought for favorable PA language within the state and advocated for PAs during his entire medical career. He was elected President of CONNAPA and previously the Missouri Academy of PAs. He  played a key role in changing policy and laws bolstering PA practice. His PA colleagues along with his family and friends will sincerely feel his absence.
The scholarship will be awarded to a PA student who exemplifies interest, action and advocacy for PA policy, scope of practice, and law.
---
J. Jeffrey Heinrich Memorial Scholarship
This scholarship is named in honor of Dr. J. Jeffrey Heinrich, one of the Founders of the CT PAF and a CT PAF past president.  He was also a past president of ConnAPA, the National PA Foundation and the first president of the Society for the Preservation of Physician Assistant History.
SEE MORE
This scholarship is awarded to the student who most exemplifies community service.
---
Joseph L. Kaplowe Memorial Scholarship
The Joseph L. Kaplowe Memorial scholarship is awarded to a student who has proudly served  our country and exemplifies overall excellence and dedication to the PA profession.  Joe proudly served his country as a Medical Corpsman in the United States Navy.  He then continued on to PA school and began his long career as a surgical PA.  Joe accomplished many great things throughout his career.  He was the Founding President of the New Hampshire Academy of Physician Assistants, helped to institute and foster the concept of PAs serving as surgical and critical care providers, lectured at several PA schools and served on the Disciplinary Board of Medical Examiners for the State of Connecticut.  However one of the things Joe loved the most throughout his career was precepting PA students and mentoring junior PAs.  His remarkable intellect, clinical savviness and 'street smarts' made him a favorite preceptor for decades of PA learners.  He had an unforgettable sense of humor, encouraged others to not take life too seriously, shared his love for sailing and taught many lessons about life and about caring for our patients.
He worked tirelessly on numerous committees on both the state and national level and served as ConnAPA's Chairman of the Legislative Committee for many years.  He spearheaded many of ConnAPA's legislative initiatives.  He was a true leader and advocate for our profession.
This scholarship is awarded to the student who most exemplifies legislative service and activism.
---
Scholarship winners
Each year, during the Charter Oak Conference, CTPAF announces its scholarship recipients for the current year.  Since 1980, CTPAF has awarded over $160,000.00 in scholarships to deserving PA students.  Applications are sent to all PA programs throughout the country for Connecticut residents attending out of state programs and all CT PA program students.  The applications are reviewed by the scholarship committee and are judged on community service, quality of a narrative response, and resume.   In 2020, we received 36 applications from 6 PA programs and awarded a total of $7,500.00.
2020
Since we were not able to honor our recipients in person due to the postponement of the Charter Oak Conference because of the Covid-19 situation, we wanted to share a little bit about who this year's recipients are to our ConnAPA members.
Drew Morten Scholarship
Delilah Dominguez is this year's Drew Morten Scholarship awardee.
Delilah Dominguez is a third-year student in Quinnipiac University's physician assistant program. She was recently named the AAPA 2020 Student of the Year. She is president of her class, a two-term student delegate for the AAPA House of Delegates, a committee member on the AAPA Joint Task Force on PA Burnout, a member of the AAPA Student Leadership Committee, a University of Connecticut/Area Health Education Center Network Program Scholar, Student Director of PAs in Hospice and Palliative Medicine, and a PAEA Health Policy Fellow. She is dedicated to volunteer work and has completed over 260 hours of community service during PA school.
Joseph L. Kaplowe, Jr. Memorial Scholarship
William Eisenhart is the recipient of the inaugural Joseph L. Kaplowe, Jr. Memorial Scholarship.
William Eisenhart was born in South Korea and immigrated with his mother to the United States.  He joined the military after 9/11 and served in the Navy as an Explosive Ordnance Disposal tech, disarming Improvised Explosive Devices overseas and then as a Special Operations Medics.  He decided to pursue a career as a Physician Assistant and was accepted to the Yale PA Online program.  William is active in several non-profits that work with veterans trying to transition to medical programs and a non-profit that is working to increase the medical professionals in Sierra Leone.  He intends to return to the military to treat service members, their family members, and veterans, as well as work with the underserved in the United States and overseas after graduation.
The J. Jeffrey Heinrich Scholarship
Briana Stockdale is this year's Jeffrey Heinrich Scholarship recipient.
Briana Stockdale is a third year PA student from Quinnipiac University. She earned her Bachelor's degree in Health Sciences in 2018 from Quinnipiac.  Briana currently serves as the president of Graduate Student Council, foot clinic coordinator, and cow chip bingo committee member. She is active in community service, which includes favorites such as Loaves and Fishes, Skiers Unlimited, and volunteer firefighter and EMT for the North Haven and Campville fire departments.
Connecticut Orthopaedic Institute Scholarship
The Connecticut Orthopaedic Institute at Midstate Medical Center supports 100% of this scholarship. The Connecticut Orthopaedic Institute is proud to support the PAF and PA education. The institute recognizes the critical role PAs serve in a healthcare team. At Connecticut Orthopaedic Institute, PA team members are leaders and assist in providing the highest of quality and safe orthopaedic care while providing patients an exceptional experience.
Amanda Chicoine is this year's Connecticut Orthopaedic Institute Scholarship recipient. .
Amanda Chicoine is from South Dakota and started her healthcare career working as a registered dietitian. After being accepted into PA school, she was selected for the Health Services Collegiate Program Naval Scholarship. Upon completion of PA school, she will commission as a Navy PA and is looking forward to serving our nation's heroes. Her favorite community service experience throughout PA school has been the foot clinics at the men's homeless shelter in New Haven, CT.
Other CTPAF scholarship recipients in 2020 were:
 Rochelle Wang is a Quinnipiac University PA student from the class of 2020. During her time at Quinnipiac, she has served as a committee member of the volunteer food drive Midnight Run and the annual Cow Chip Bingo event. In addition, she was the AAPA Student Academy Representative of her class. She is eager to begin her professional career as a clinician who is dedicated to providing quality patient care and improving health care access in underserved communities.
Christina Jacobson is a second-year student in the Yale Physician Associate Program, Class of 2020. She graduated Summa Cum Laude from Quinnipiac University with a BS in biomedical science, where she was a member of the Alpha Eta Allied Health and Phi Sigma Biological honor societies. She developed an interest in the PA profession throughout her time attaining over 4,000 direct patient care hours working as a CNA in a variety of settings, most recently on medical/surgical and postpartum units at Hartford Hospital. During her time at Yale she has served as CT PA Foundation class representative and received the Yale Club of New Haven scholarship. She hopes to pursue a career in hospitalist medicine or a medical subspecialty upon graduation this year.
Adrien Chan is currently a 2nd year PA student at Quinnipiac University who graduated from the Entry Level Masters PA Program in 2019. She is currently the secretary of the PA Student Society and was chosen to represent Quinnipiac's PA program in the Challenge Bowl at the AAPA Conference in Nashville. She is passionate about getting involved with her community and has most recently been writing notes of encouragement to her senior pen pals during quarantine. As a New Hampshire native, Adrien enjoys hiking and skiing during her free time. She is committed to making a difference in the healthcare industry and strives to demonstrate how essential the roles of PAs are in the medical field.
Erin Schirra is a third year PA student from Quinnipiac University, with plans to pursue a career in obstetrics and gynecology. Her time at Quinnipiac has been enhanced by opportunities to give back to the community, with some of my favorite events through my participation in Urban Service Track, an interprofessional student cohort with a focus on community service and care for the underserved. Sher also enjoys volunteering at Hartford Correctional Center with my family and advocating alongside those with intellectual and developmental disabilities for inclusion through friendship. She was selected to present my research at the 2020 AAPA conference and looks forward to virtually doing so.
2019
Stephanie Cyphers from Case Western University's PA Program
Jaron Graeber, Nicholas Patino, Julia Vanasse,  Quinnipiac University
Paxton Stein, Elena Sullivan,  Meghan Burns, Yale University
Ashton Ogle from Sacred Heart University's PA Program – Drew Morten Memorial Scholarship
Jared Walsh from Quinnipiac University's PA Program – Connecticut Orthopaedic Institute Scholarship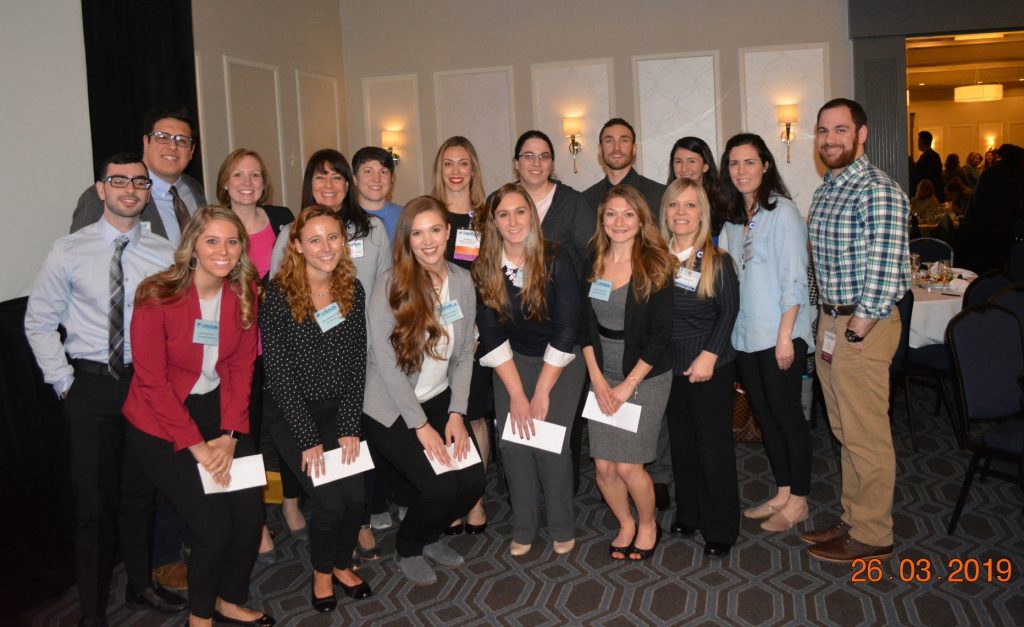 2018
Pamela Jackson, Sacred Heart University
Yukari Suzuki, Catherine Schwing, Stephanie Baluka, Yale Univsersity
Lucy Hopko, Kelsey Bestall, Collin Dimler, Anthony Boguslawski, Rachel Guketlov, Quinnipiac University