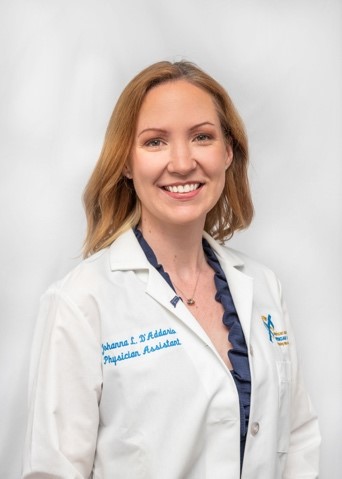 Johanna D'Addario is a PA with experience in internal medicine, gynecologic oncology, and patient safety. A 2008 graduate of the Quinnipiac University PA Program in Hamden, Connecticut, she started her career in hospital medicine and later as Patient Safety Manager at Montefiore Medical Center in the Bronx, NY until 2011. Moving back to Connecticut, she served as a faculty member in the PA Program at Quinnipiac University between 2011 and 2018. In 2015, she was inducted into the Pi Alpha Honor Society for the PA Profession. Her passion for education continues in her role as a preceptor for PA students.
Currently working in primary care and gynecologic oncology, Johanna coordinates the Sexuality, Intimacy and Menopause Program at Yale-New Haven's Smilow Cancer Hospital. In addition, she sees patients in the Discovery to Cure program, focusing on prevention and early detection of gynecologic cancers in patients at high risk. Her clinical interests include cancer genetics, health and wellness, disease prevention, and patient-centered care.
Johanna is a member of the American Academy of PAs and served as President of the Connecticut Academy of PAs from 2021-2023. In 2021, she was named a Distinguished Fellow of the AAPA. She is also a member of the Society of Gynecologic Oncology and the Scientific Network on Female Sexual Health and Cancer and serves on the Medical Advisory Board for the National Kidney Foundation serving Connecticut and New York. In her free time, Johanna enjoys spending time with her family and friends, traveling, and being active outdoors.